News
Current
ON VIEW JUNE 3 - DECEMBER 30, 2018
Striking Iron: The Art of African Blacksmiths
Fowler Museum
308 Charles E Young Drive North
Los Angeles, California 90024
Striking Iron is based on decades of research by its curatorial team, led by artist Tom Joyce. Following its debut presentation in Los Angeles, the exhibition will travel to the Smithsonian Institution's National Museum of African Art, Washington, D.C. (February 13 - October 20, 2019), and the Musée du quai Branly-Jacques Chirac, Paris (November 2019 - March 2020).
Click on the following links for the press release and an exhibition preview article in African Arts.
Striking Iron Public Event
An Interdisciplinary Symposium: Striking Iron
November 9 - November 10, 2018
Fowler Museum at UCLA, Lenart Auditorium

This two-part symposium explores iron in the context of its history, spiritual potencies, cultural roles, meanings, and artistic possibilities in Africa and its Diasporas. The interdisciplinary range of distinguished speakers includes archeologists, anthropologists, historians and acclaimed artists Sokari Douglas Camp, Tom Joyce and Alison Saar.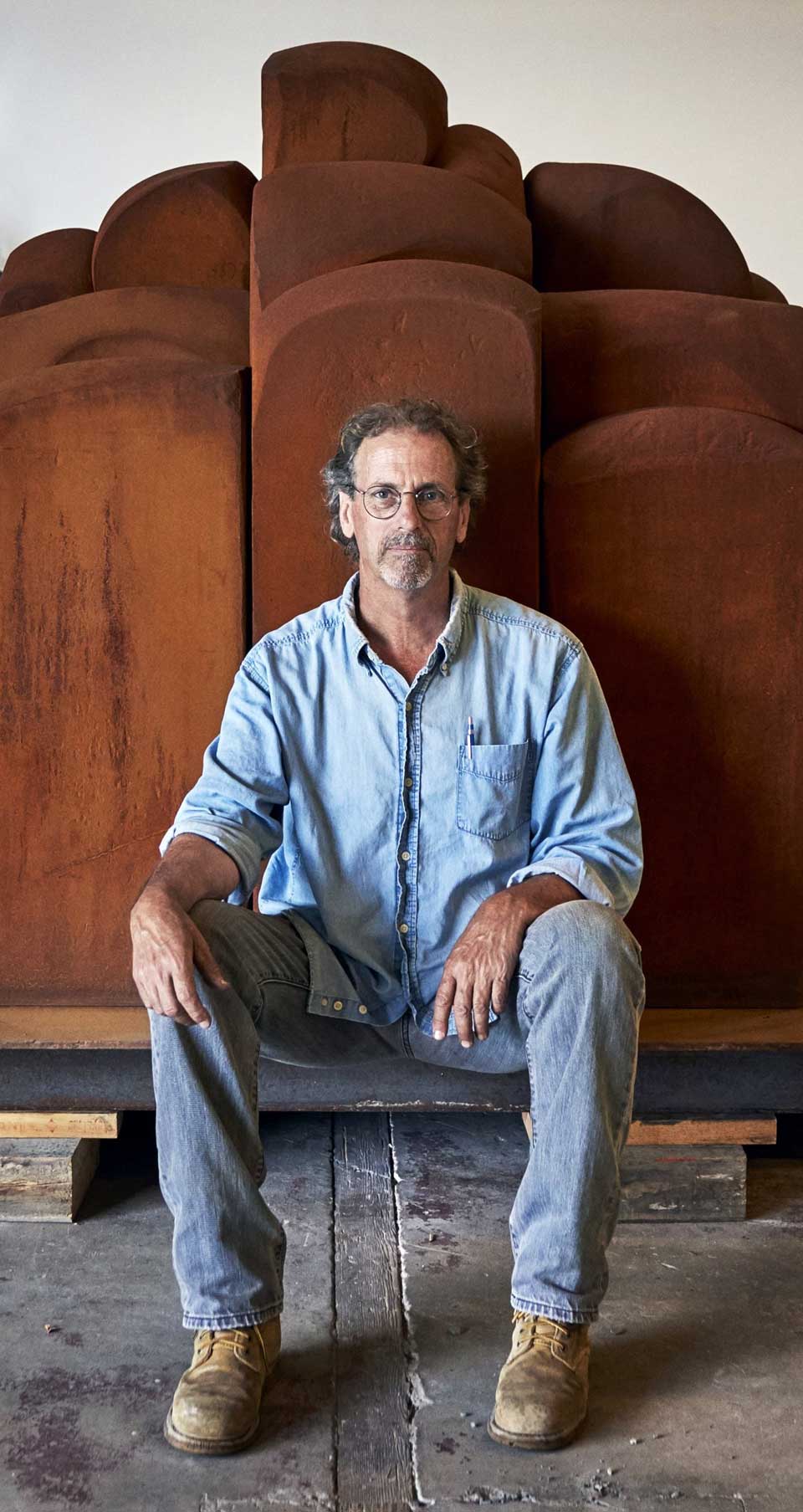 October 26 - December 30, 2018
Burning Ring of Fire
Amarillo Museum of Art
2200 S. Van Buren Street
Amarillo, TX, 79109
Exhibition Opening Reception, October 26, 6:30 PM
Opening Night Lecture by Tom Joyce, October 26, 7:30 PM
Lecture Synopsis: "Before iron passed into the hands of artists, it made a long and circuitous journey; from its explosive origins in dying suns; to its emergence as nanoparticles in soil, plants, animals and every other living thing; from microscopic bacteria to the largest mammals inhabiting Earth. Iron in blood and the oxygenating properties it facilitates in our bodies not only sustains life as we know it, but also acutely affects our immune system; brain development; learning capacity; memory; metabolism; motor skills and manual dexterity. How is it that iron emerged as such an indispensable ingredient and building block in our solar system and in galaxies far beyond; inside ourselves and in the objects passed from a maker's hands into the hands of others?" –Tom Joyce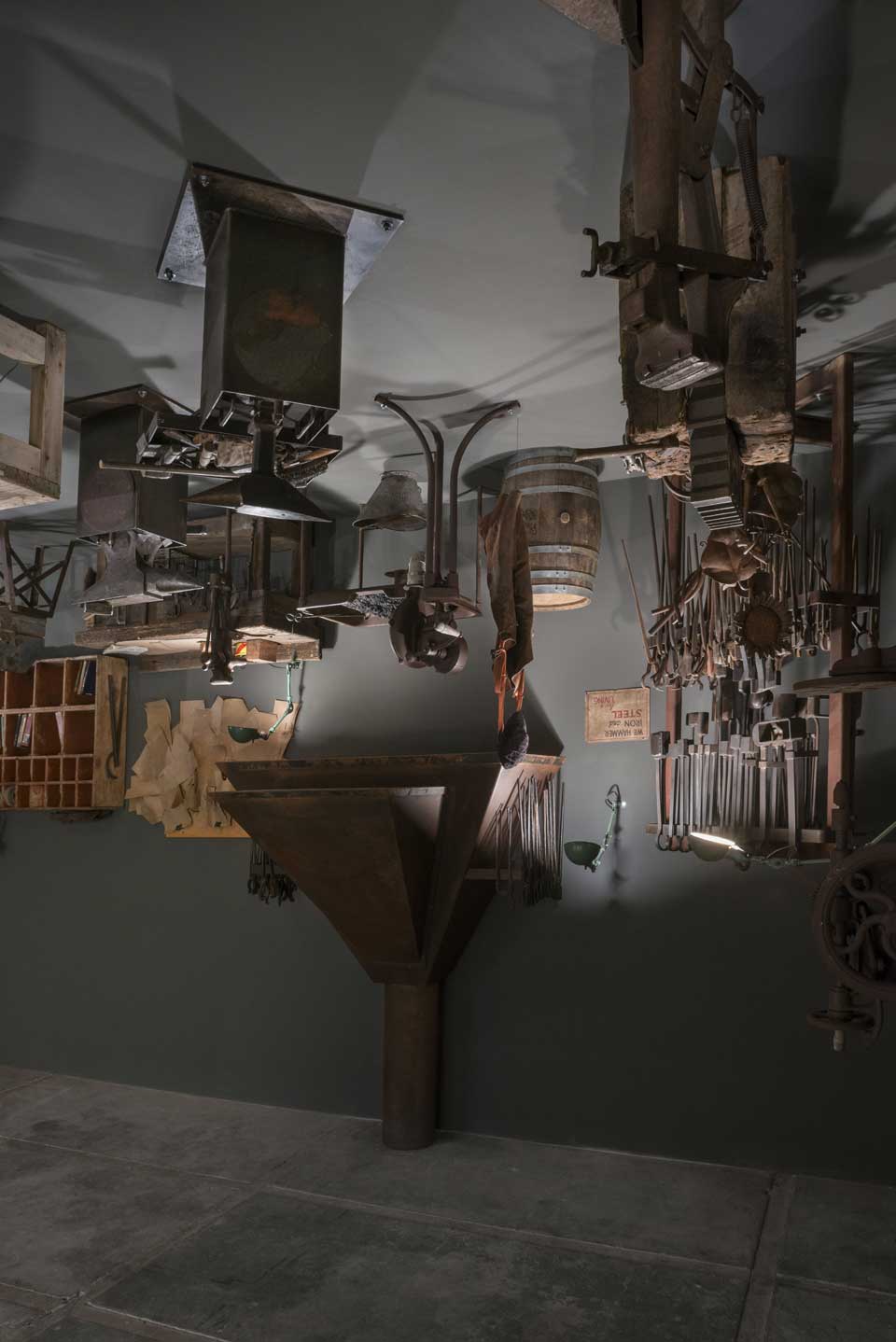 Long-Term Installations at the CCA
Tc (Curie Point) on view in the Tank Garage Gallery and outdoor works in the Sculpture Park
1050 Old Pecos Trail
Santa Fe, New Mexico 87505
This multimedia installation suspends nearly 25,000 lbs of obsolete equipment, supplies, tools, jigs, fixtures, artifacts, working drawings, patterns, clay models, prototypes, books, knickknacks, signage and other objects that were once incorporated, made, used and/or laid to rest in the artist's studio. Though the installation is not an inverted reconstruction of the artist's studio, it represents an encapsulation of a career path, from his first tools and experimental forgings as a teenager in El Rito, New Mexico, through maquettes of public art projects, drawings, and sculpture that facilitated the next generation of ideas to explore. Working with a hefty material, deeply rooted within a complex history of human use, the artist chose to express in this work a sense of daring weightlessness - tools hovering just out of reach, yet firmly anchored as symbolic still points around which a flurry of activity continues to extend his inquisitive reach.
ON VIEW JULY 28 – DECEMBER 31, 2017
Tom Joyce: Everything at Hand
CCA Tank Garage Galleries and Sculpture Garden
1050 Old Pecos Trail
Santa Fe, New Mexico 87505
This solo exhibition of sculpture in cast and forged iron, photography, video, charred drawings and mixed media installations explore macro/micro scaling up and down of several alternate directions in the artist's work. Turning his studio inside out and upside down, works related to the tools at hand will be installed in the Tank Garage Gallery and outside in the recently dedicated sculpture garden on the grounds of CCA.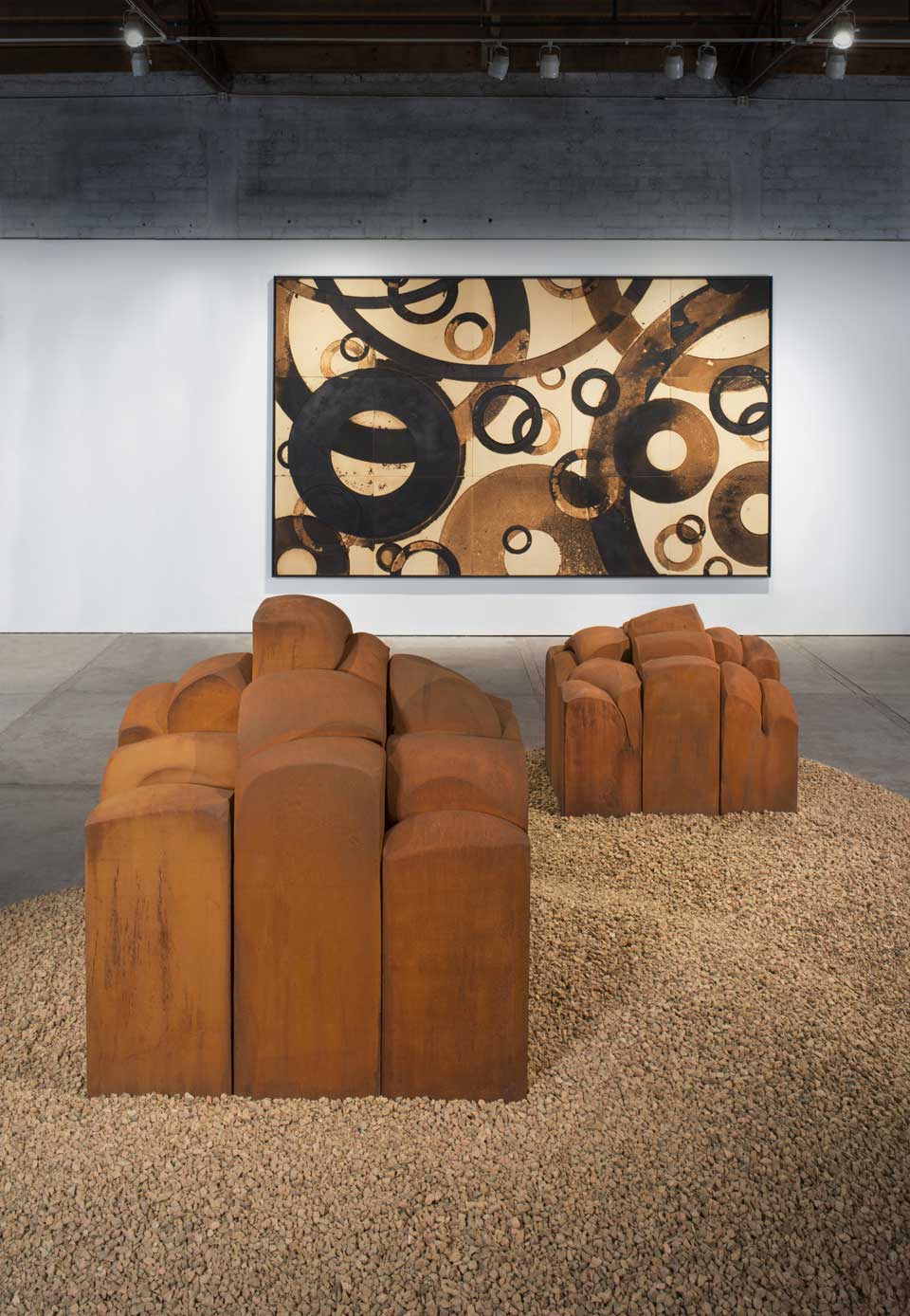 AUGUST – NOVEMBER 2017
Conversations at Hand
CCA Tank Garage Gallery
A series of public events coinciding with the exhibition, Tom Joyce: Everything at Hand. This monthly dialogue program brings together speakers from various disciplines and backgrounds to discuss diverse themes that are present in the exhibition. Participants include artists, curators, designers, historians and scientists. Click here to view a video of the first conversation in the series, between Stuart Ashman, Tom Joyce and Arden Reed.
Radius Book Release
Tom Joyce, 2002-2017
Essays by MaLin Wilson-Powell and Ezra Shales
Radius Books
For over 40 years, Tom Joyce has employed hands on knowledge of diverse materials to produce cast, forged, and constructed sculpture, charred drawings, photographs, and mixed-media artworks that often incorporate industrial remnants from large scale manufacturing or iron fragments collected for their significance to a specific region or event. Joyce continues to examine, through the inheritance of prior use, the environmental, political, and historical implications of using iron in his work. This monograph nncludes in-depth essays from MaLin Wilson-Powell and Ezra Shales.
---
Archive
SEPTEMBER 20-22, 2018
ThinkCraft Symposium
Cleveland Institute of Art
11610 Euclid Ave.
Cleveland, Ohio 44106
ThinkCraft is a three-day symposium focused on issues critical in craft today. Presentations will be given on topics ranging from contemporary practice, curating, collecting, theory and education. Keynote speakers include Elisabeth Agro; Glenn Adamson; Tom Joyce; Stuart Kestenbaum; Janet Koplos and Judith Schaechter.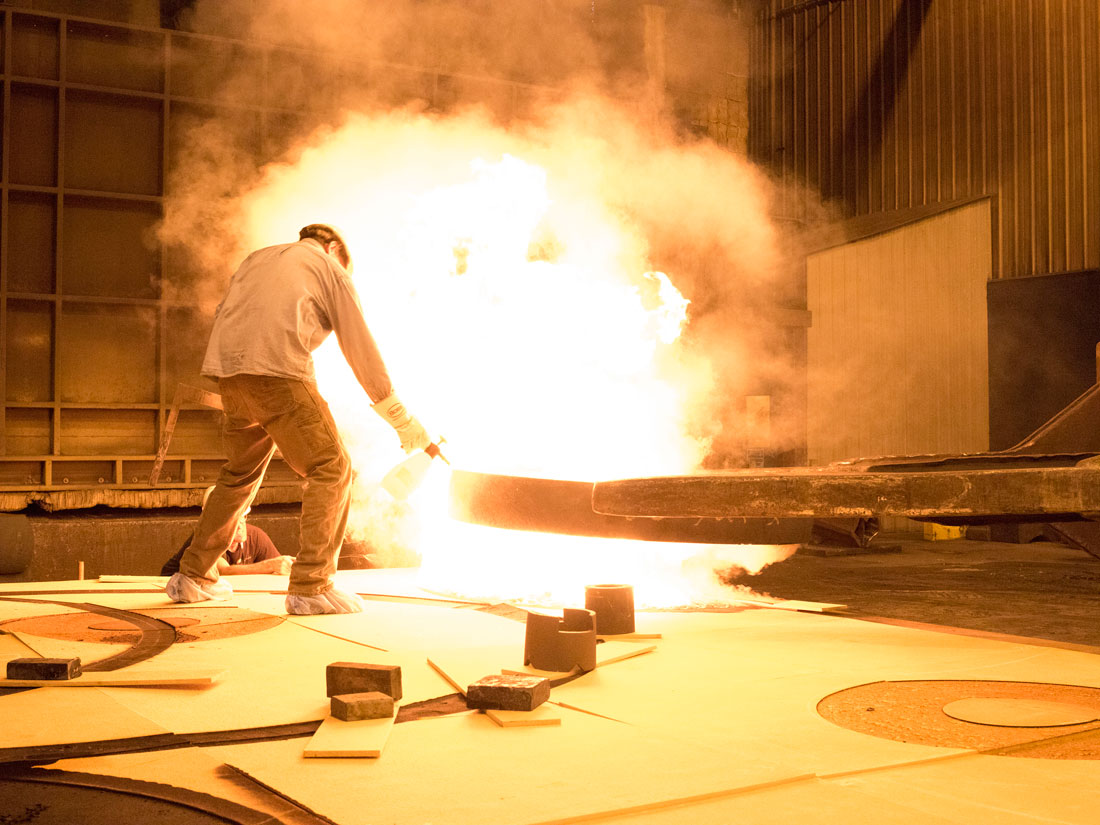 MAY 2, 2017 at 7:00 PM
An Evening with Tom Joyce
Corcoran School of the Arts and Design
Hammer Auditorium
500 17 Street NW
Washington, DC 20006
2017 Dudley Memorial Lecture: Tom Joyce in conversation with Richard Wattenmaker, art historian and former Director, Archives of American Art.
To RSVP visit the Corcoran event page.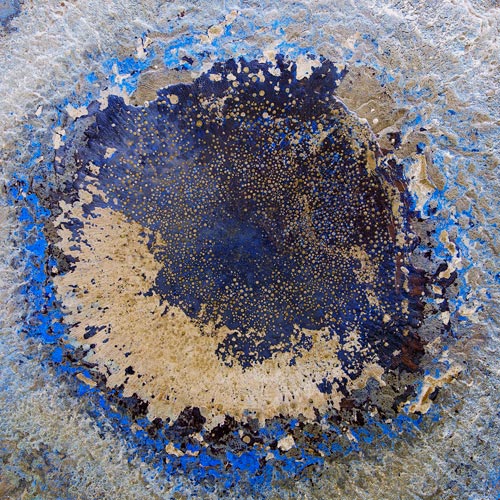 FEBRUARY 22 – APRIL 15, 2017
Crystallized
Spazio Nobile Gallery
Rue Franz Merjay 142, B
1050 Brussels, Belgium
With artists, Chen Chen & Kai Williams, Marie Dessuant & Philip Bone, Dessuant Bone, Gaëlle Gabillet & Stéphane Villard, Taag Nishimoto, Marlene Huissoud, Tom Joyce, Antonio Lampecco, Ming-Zhong Chen & Yu-Ju Lin, Isaac Monté, Frederick Vidal, and Philipp Weber.
"This photographic series investigates microstructures inherent in iron, the raw material I use to forge sculpture. A distinct dendritic pattern, as unique as a human fingerprint, develops when molten iron slowly cools inside massive ingot molds during the first phase of its manufacture. The strength of the material is determined at the moment of its birth and, in essence, it's "genetic code" is reflected in the re-crystallization recorded in these images of iron and steel ingots colored by impurities that rise and settle on its surface."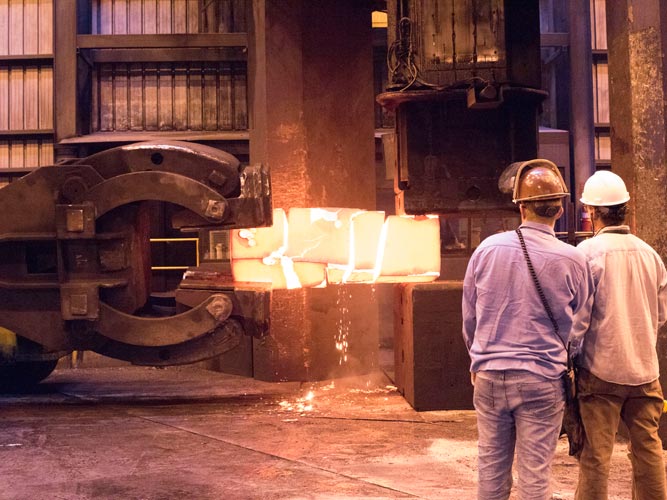 DECEMBER 10, 2016
Sculptor Tom Joyce
¡COLORES! New Mexico PBS, KNME-TV
Challenging established ideas about forging and casting iron, Santa Fe sculptor Tom Joyce's cutting edge artwork connects the past, present and future. "Every forging that I produce ... embodies, in many ways, everything that has been made before it and everything that will come after it. Knowing that all iron is essentially a store of material to be used by somebody else at a later date, gives me pause as an artist, knowing that today it's a piece of sculpture and tomorrow who knows? I feel as though I've spent a lifetime mining the inherent qualities of the material I work with ... setting up the conditions whereby a formal approach is begun and then allowing iron to speak for itself by traveling in unexpected and unpredictable ways." Click here to watch the video.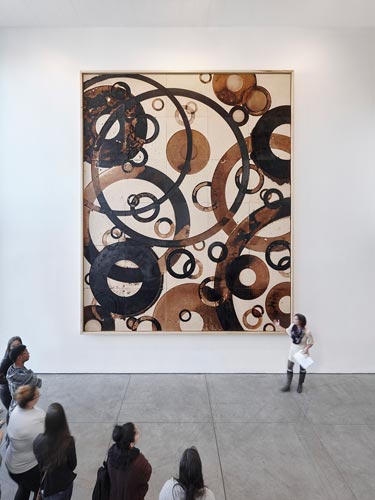 OCTOBER 15, 2016 - JANUARY 7, 2017
DECADE: Celebrating the 10th Anniversary of 516 ARTS
516 Central Avenue SW
Albuquerque, New Mexico 87102
Created specifically for DECADE, Penumbra XXVI is the largest of an ongoing series of process driven transfer drawings made by pressing glowing hot, forged machine parts onto recycled wood-fiber boards. The seared shadows in these 30 panels record industrially produced forms made in one of the largest forging facilities in the United States. The impressions offer a rare, though abstract glimpse of mechanical technology literally "hot off the press" in the factory. All of the machine parts represented here are now performing tasks as indispensable components in equipment used in space, on land, and in the sea.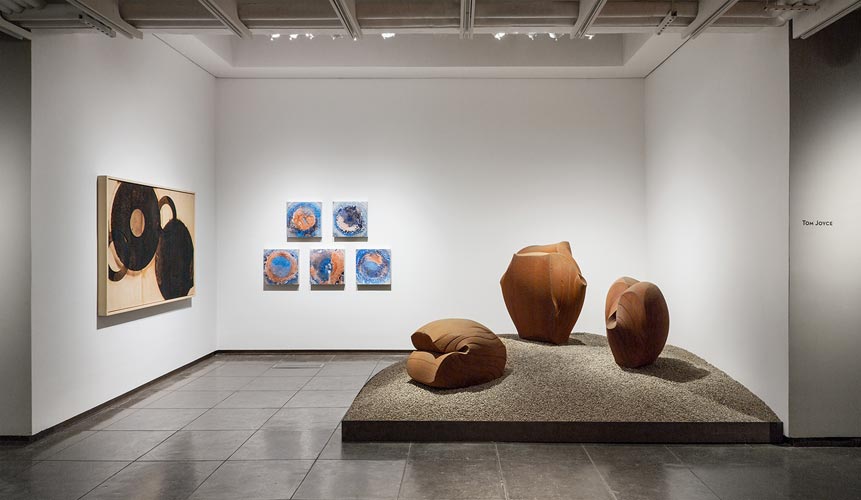 June 24 - August 14, 2016
Tom Joyce: New Works
Alcove Exhibition - New Mexico Museum of Art
107 West Palace Avenue
Santa Fe, New Mexico 87501
The Alcoves' exhibitions are a distinctive feature of the New Mexico Museum of Art's 100 year curatorial programming with seven rotations of New Mexican artists over the course of each year. Represented in the Alcoves' exhibition of 1989 and again in 2016, Alcoves 16/17 #3 featured Tom Joyce's forged high-carbon steel sculptures Surge I, Surge II, and Surge III, in addition to a charred drawing, and for the first time, dye infused photographs on aluminum.
October 1, 2015
Project Ten Ten Ten
The Mint Museum
500 S Tryon Stre
Charlotte, North Carolina 28202
The centerpiece of the fifth anniversary celebration of the opening of the Mint Museum, will be the dedication of Tom Joyce's stainless steel and cast iron sculpture, titled Thicket. The sculpture will complete"Project Ten Ten Ten", a series of commissions of ten major works by leading international artists and designers in honor of the Museum's opening in the tenth month of 2010. Thicket, a seven-and-a-half-foot square block composed of stainless steel rods passing through cast iron hammer heads, is a fitting tribute to the community impact of the Mint and Levine Center for the Arts (which is also home to the Bechtler Museum of Modern Art, the Harvey B. Gantt Center for African-American Arts + Culture, and Knight Theater).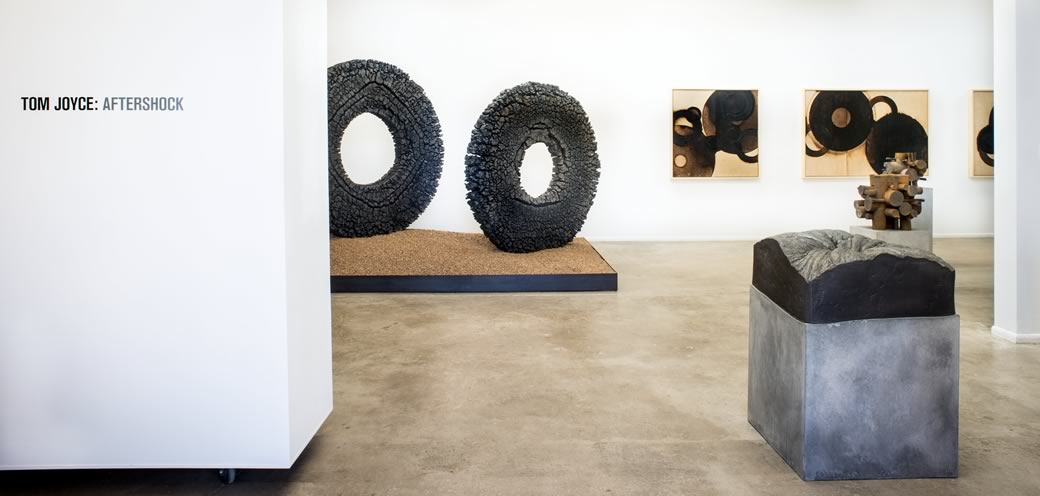 August 7 - October 3, 2015
Tom Joyce - Aftershock
New works in forged stainless steel, cast iron, digital video, photography and mixed media.
James Kelly Contemporary
1611 Paseo de Peralta
Santa Fe, New Mexico 87501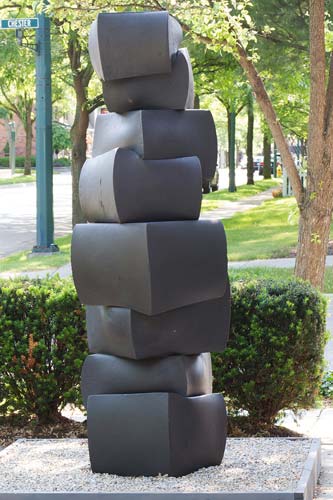 June 4 - July 9, 2015
Some Assembly Required
Hill Gallery
407 West Brown Street
Birmingham, Michigan 48009
Join us for the opening reception this Thursday June 4th from 6-8 p.m. for our summer group show, "Some Assembly Required." The Exhibition features exciting works by artists Donald Lipski, Vanessa German, Alfred Leslie, Richard Nonas, Mel Kendrick, Linda Benglis, Nancy Graves, Jene Highstein, Tom Joyce, Tadaaki Kuwayama, Joel Shapiro, Mark di Suvero, and others. The show will run until July 9th.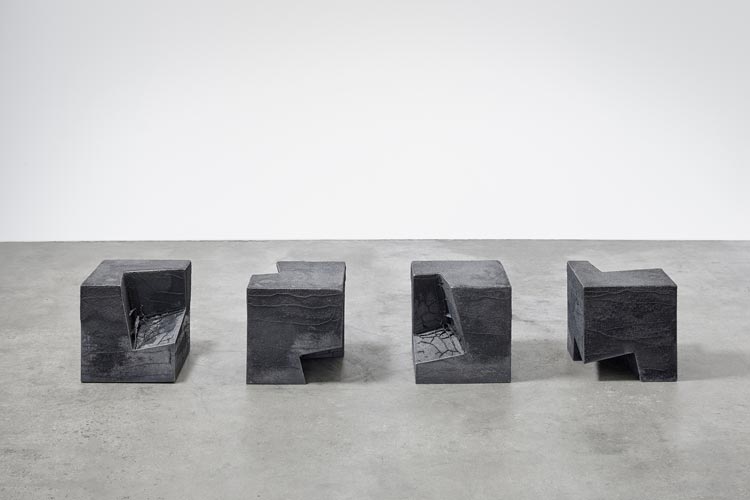 April 10 - May 15, 2015
Stubborn Matter
Wade Wilson Art
217 West Water Street
Santa Fe, New Mexico 87501
"Stubborn Matter" highlights work by Santa Fe University of Art and Design students, alumni, faculty, and guest artists, including Ligia Bouton, Karl Hofmann, Tom Joyce, Phat Le, Joanne Lefrak, Donna Ruff, Kevin Scott-Bouton, Brad Wolfley, and Susan York. The exhibition uses the lens of weight and density as they relate to matter to consider work from the artists across and within educational and community contexts. All of these artists bend their visual vocabularies to promote and indulge their unique investigations of personal history. The results not only challenge traditional artistic approaches–painting, drawing, sculpture–but also create a distinct, almost performative role for the viewer as they attempt to read those histories.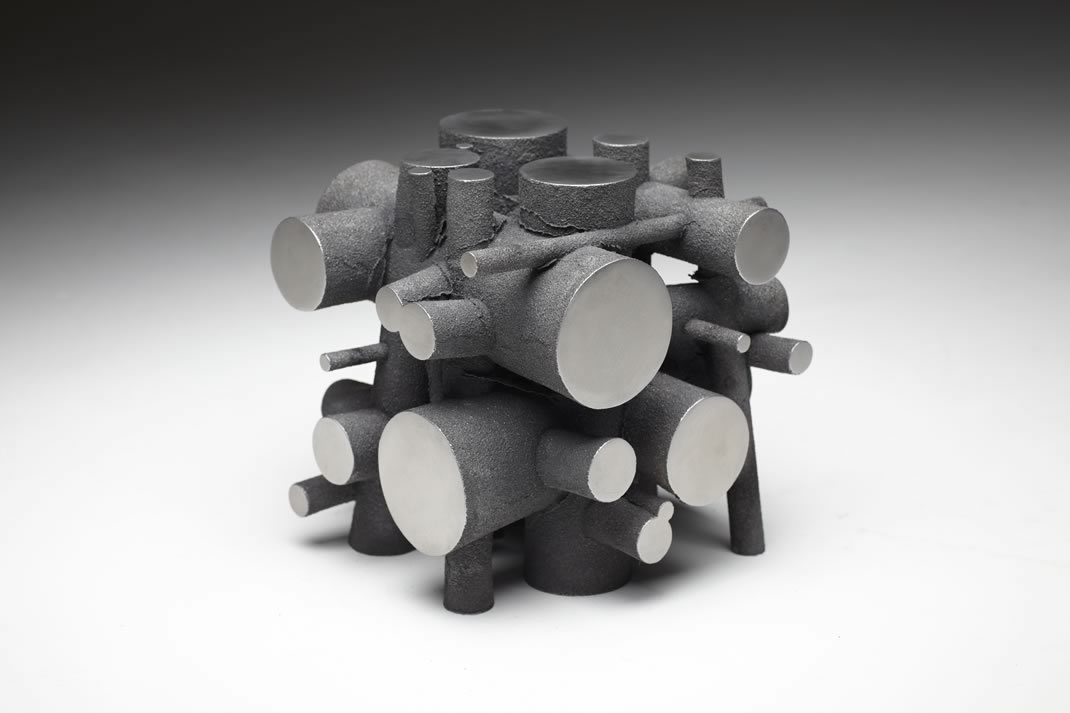 March 5 - 8, 2015
The Armory Show, Pier 92
New York City
Hill Gallery: Representing Alice Aycock, Milton Avery, Mark di Suvero, Al Held, Jasper Johns, Tom Joyce, Robert Rauschenberg, Joel Shapiro, Peter Volkous, Carrie Mae Weems
Dedicated exclusively to 20th century artworks, Insights emphasizes solo-artist, dual-artist and thematic presentations. This section highlights canonical works of modernism and the post-war era as well as overlooked artistic gems and rediscoveries.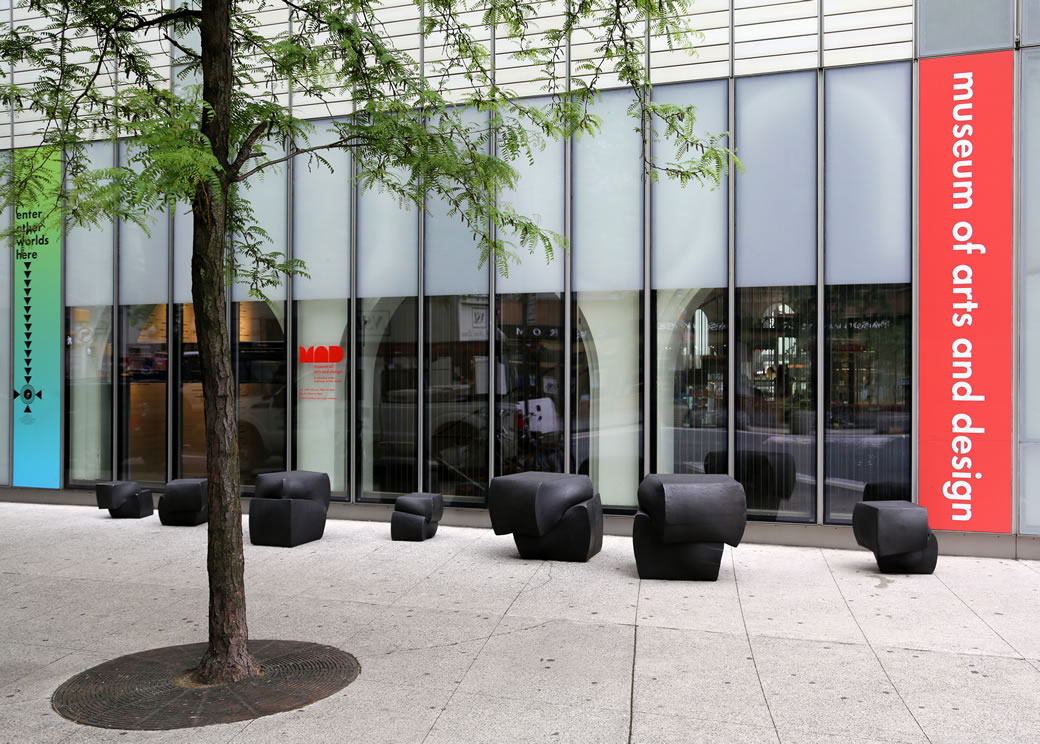 March 4, 2015
Two to One - Sculpture Dedication
Museum of Arts and Design
New York City
Director Glenn Adamson and Tom Joyce in conversation 7:00 PM
Curator Lowery Stokes Sims interview with Tom Joyce
Though the sculptures can indeed function as benches, I wanted these pieces, positioned at the base of the Museum of Arts and Design, to inhabit multiple worlds, dissolving the often perceived polarity between design and art practices. In my world, there is no separation between these two activities–nor in growing a garden, preparing a meal, taking a walk or writing a letter–intention is all that distinguishes an object's role in both public and private life. These sculptures are part of a continuing body of work, forged in collaboration with industrial blacksmiths that allow a privileged access to a lineage of making of which I am inextricably a part of.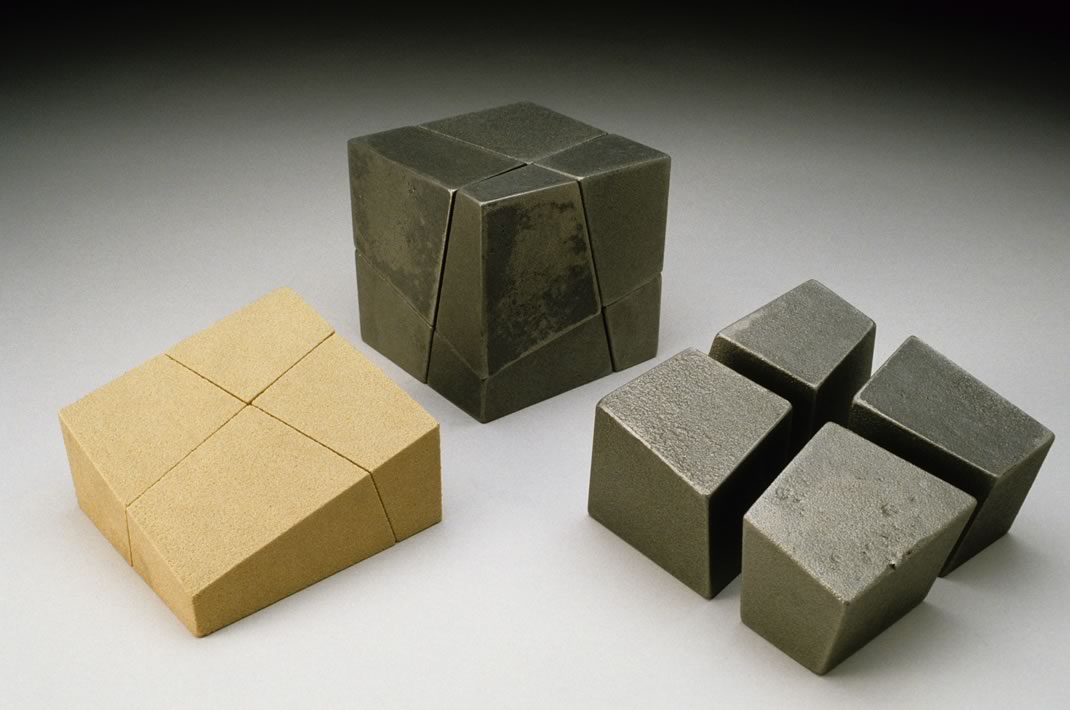 January 22-25, 2015
Metro Show, Metropolitan Pavilion
New York City
Hill Gallery: Representing Linda Benglis, Jene Highstein, Tom Joyce, Alfred Leslie, Donald Lipski, Elizabeth Murray, Bob Rauhauser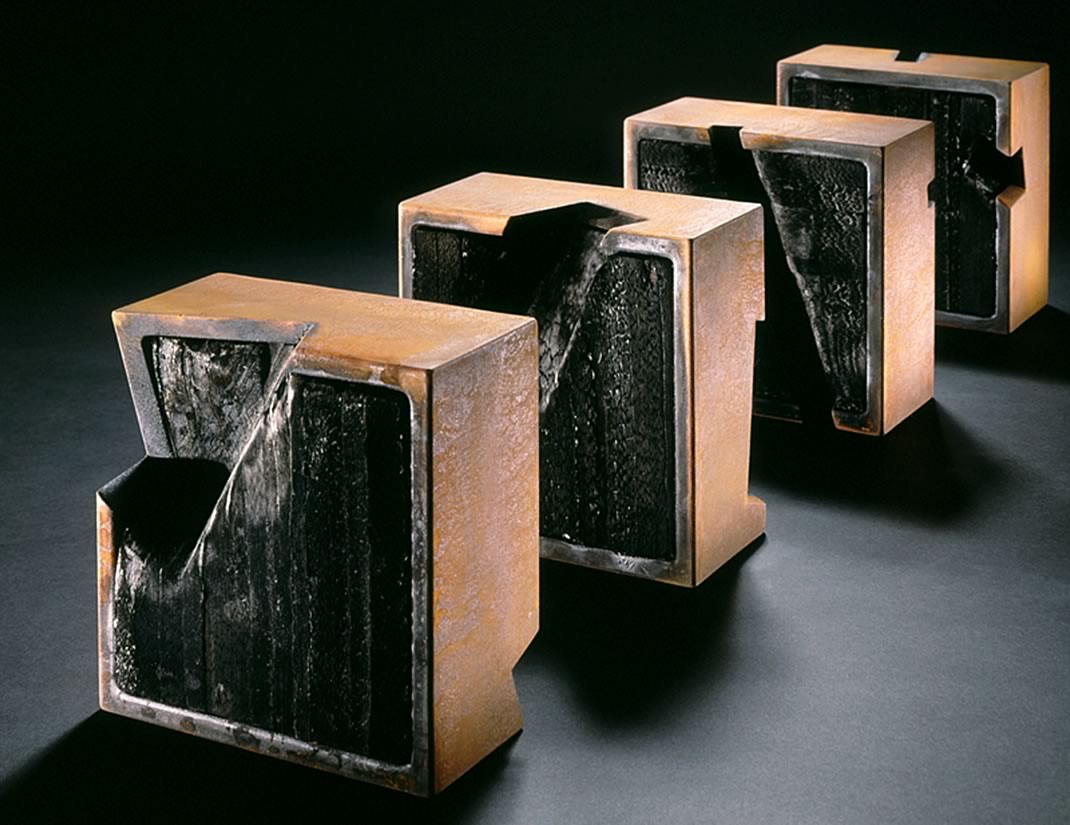 November 7, 2014 - February 1, 2015
Odd Volumes: Book Art from the Allan Chasanoff Collection
Yale University Art Gallery
New Haven, Connecticut
Drawn from a major collection given to the Gallery by Allan Chasanoff, B.A. 1961, Odd Volumes showcases a selection of experimental and innovative works of book art from the 1960s to the present. This student-curated exhibition considers the transformation of books into sculptural objects from multiple perspectives: the history of book art, the relationship between form and content, and the interaction between the viewer and the work. Featuring approximately 100 works by more than 80 artists, including acclaimed figures such as Olafur Eliasson, Yoko Ono, and Dieter Roth, this exhibition offers a rare opportunity to discover the world of book art.